DEKA DOT Fractional CO2 Laser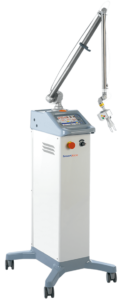 The DEKA DOT (Dermal Optical Thermolysis) is a fractional CO2 laser system that can rejuvenate the skin by stimulating new collagen production. During this laser skin resurfacing treatment, the advanced laser creates microscopic channels in the skin, leaving a pattern of tiny wounds that signal the body's natural healing process. By leaving sections of skin untouched within the treatment area, the DEKA DOT offers a more efficient procedure with faster healing. 
What Are the Benefits of the DEKA DOT Laser?
Our board-certified plastic surgeon, Dr. Andrew T. Cohen, is proud to offer a variety of non-surgical aesthetic treatments, and the DEKA DOT laser offers patients a new way to address a wide range of skin concerns. The CO2 laser system has been proven to effectively offer the following benefits: 
Smooth fine lines and wrinkles
Treat sun damage
Diminish acne scarring
Minimize large pores
Improve uneven skin tone
Even out rough skin texture
During your consultation, Dr. Cohen can help you understand how laser resurfacing with the DEKA DOT can improve your unique skin concerns. This initial assessment will also allow him to adjust the settings of the laser system to ensure the most comfortable yet effective treatment for your needs and aesthetic goals.
What Does the DEKA DOT Laser Treatment Entail?
Before your DEKA DOT laser treatment, your skin will be numbed with a topical anesthetic to help minimize any discomfort. To begin the procedure, Dr. Cohen will guide the UltraFine Fractional Scanner across the target area, customizing the settings based on the size, depth, and extent of your needs. The handpiece will deliver the laser energy into the epidermis and dermis, creating a pattern of microchannels. While this occurs, the DEKA DOT system simultaneously sends cool air to the skin to improve patient comfort. 
The DEKA DOT should not cause any bleeding, and it can be used on even the most sensitive skin areas, such as the eye area, around the mouth, the neck, and back of the hands. A DEKA DOT treatment for the full face can typically be completed in about 30 minutes, but you will need to allow for extra time for the initial numbing cream to take effect.
How Long Is the DEKA DOT Laser Treatment Recovery?
The microscopic channels created during the DEKA DOT laser treatment typically heal within a few hours after your appointment. Your skin will continue to heal from treatment, though, with recovery lasting about four to seven days. For the first 24 hours, you can expect your skin to be slightly red and feel sunburned. Some patients may experience mild swelling, which can be managed with a cold compress. You will be instructed to keep the area moist as it heals, using a gentle moisturizer several times per day. While the area may initially feel dry and coarse, the damaged skin should begin to peel and flake off as younger, healthier skin emerges.