Encino Plastic Surgeon Helps Mothers Prepare for a Mommy Makeover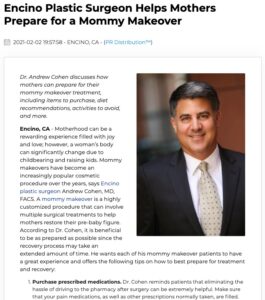 Dr. Andrew Cohen discusses how mothers can prepare for their mommy makeover treatment, including items to purchase, diet recommendations, activities to avoid, and more.
Encino, CA – Motherhood can be a rewarding experience filled with joy and love; however, a woman's body can significantly change due to childbearing and raising kids. Mommy makeovers have become an increasingly popular cosmetic procedure over the years, says Encino plastic surgeon Andrew Cohen, MD, FACS. A mommy makeover is a highly customized procedure that can involve multiple surgical treatments to help mothers restore their pre-baby figure. According to Dr. Cohen, it is beneficial to be as prepared as possible since the recovery process may take an extended amount of time. He wants each of his mommy makeover patients to have a great experience and offers the following tips on how to best prepare for treatment and recovery:
Purchase prescribed medications. Dr. Cohen reminds patients that eliminating the hassle of driving to the pharmacy after surgery can be extremely helpful. Make sure that your pain medications, as well as other prescriptions normally taken, are filled before surgery.
Stop smoking. According to Dr. Cohen, smoking can inhibit blood flow and increase the risk of poor wound healing. In some cases, it may even cause skin necrosis (tissue death). Dr. Cohen recommends that mommy makeover patients stop smoking three to six weeks before and after surgery. If possible, stay away from secondhand smoke as well. He also recommends to stop smoking marijuana two weeks prior to surgery.
Reduce alcohol consumption. Dr. Cohen says that alcohol may negatively interact with anesthetic medicines, cause dehydration, and affect the body's ability to naturally clot blood. Dr. Cohen recommends that patients stop consuming any alcohol at least a week before surgery. After surgery, it is important not to drink alcohol while taking prescribed painkillers and anti-inflammatory drugs.
Avoid taking blood-thinning drugs and supplements. Anti-inflammatory drugs (e.g., Aspirin, Advil, Motrin, and Aleve) and herbal supplements are known to have blood-thinning qualities. Dr. Cohen reminds patients to not consume these medications and supplements before surgery as they can increase bleeding and the risk of complications.
Prepare your home. Dr. Cohen says that patients should complete most or all errands before surgery. Stock the kitchen with healthy and nutritious foods that are easy to prepare and consume. Adjust the bed at home to be easily accessible and comfortable. Dr. Cohen highly recommends organizing books, magazines, and movies at your "recovery space" to ensure there is a variety of things to do.
Arrange for assistance. Ask a friend or loved one to help out around the house, care for the kids or pets, and go to the grocery store for you. Dr. Cohen says that the more rest and less stress that a patient experiences, the better. It will allow patients to focus on recuperating as lifting, driving, cleaning, and playing with children or pets can be exhausting on the body.
Eat healthy and exercise regularly. Dr. Cohen reminds patients that keeping a stable weight before and after surgery positively affects the results of a mommy makeover. A healthy diet promotes successful healing, especially if salty foods are avoided since sodium exacerbates swelling. Dr. Cohen also says that a strong immune system can help speed up recovery. The foods and supplements he recommends are:

Berries: Antioxidants and vitamin C help rebuild collagen for scar healing (fruits with antioxidants include: blueberries, strawberries, blackberries, pomegranates, and papaya).
Vegetables: These provide healthy carbs for brain fuel to battle fatigue after surgery and stop muscle breakdown. They also help stop constipation. Vegetables Dr. Cohen recommends are carrots, broccoli, cauliflower, Brussels sprouts, sweet potatoes, and potatoes.
Dark Leafy Greens: These help to prevent blood clots and provide a dose of vitamins A, C, E, and K. Examples include kale, spinach, Swiss chard, bok choy, and romaine lettuce.
Fats: Healthy fats are essential to strengthening the immune system and decreasing one's chance of infection. Great sources of fat include avocado, olive oil, nuts and seeds, and coconut oil.
Meat and Other Alternatives: Amino acids in the protein can help repair muscle damage by regenerating tissue and speeding up the process of wound healing. Iron in meat can help you regain your energy levels quickly, as well. Dr. Cohen says poultry, seafood, beans and lentils, nuts, eggs, and tofu are healthy protein sources.
Supplements: Dr. Cohen recommends taking vitamin C (1000 mg per day), vitamin D3 (2000-5000IU per day), and zinc (25-50mg per day) supplements.
Probiotics: Consuming probiotics supplies the body with healing bacteria to help digest food, fight infection, and provide mental balance. Food sources containing probiotics include yogurt, kefir, sauerkraut, and kimchi.
Ultimately, Dr. Cohen suggests following any detailed pre-operative instructions provided by your surgeon. Make sure to ask questions before committing to treatment to ensure that you are confident and comfortable with your decision. If you are preparing for a mommy makeover procedure, Dr. Cohen says that following his tips can help you achieve a safe and speedy recovery.
About Andrew T. Cohen, MD, FACS
Dr. Andrew Cohen is board certified by the American Board of Plastic Surgery. At Loma Linda University, he completed both his general surgery training and plastic surgery residency. Dr. Cohen has specialized fellowship training in aesthetic and oculoplastic surgery, which makes him a highly trained plastic surgeon for face and eyelid treatments. He also offers a variety of cosmetic procedures, including body contouring, liposuction, breast augmentation, and tummy tuck surgery. Dr. Cohen continues to speak at lectures and release publications to stay active in the academic aspects of plastic surgery. He is currently serving his second term as the Clinical Chief of Plastic Surgery at Cedars Sinai. Dr. Cohen is available for interview upon request.
To learn more, please visit drandrewcohen.com.
Contact:
Andrew T. Cohen, M.D., FACS
5400 Balboa Blvd, Suite 217
Encino, CA 91316
(301) 659-8771
Rosemont Media
(858) 200-0044
www.rosemontmedia.com