Encino Plastic Surgeon Explains How Breast Size Can Be Reduced Without Surgery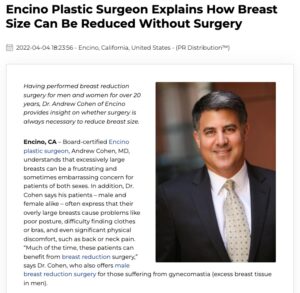 Having performed breast reduction surgery for men and women for over 20 years, Dr. Andrew Cohen of Encino provides insight on whether surgery is always necessary to reduce breast size.
Encino, CA – Board-certified Encino plastic surgeon, Andrew Cohen, MD, understands that excessively large breasts can be a frustrating and sometimes embarrassing concern for patients of both sexes. In addition, Dr. Cohen says his patients – male and female alike – often express that their overly large breasts cause problems like poor posture, difficulty finding clothes or bras, and even significant physical discomfort, such as back or neck pain. "Much of the time, these patients can benefit from breast reduction surgery," says Dr. Cohen, who also offers male breast reduction surgery for those suffering from gynecomastia (excess breast tissue in men).
Nonetheless, Dr. Cohen recognizes that some patients with overly large breasts are more interested in non-surgical, or even self-directed, methods. "Sometimes they wear loose-fitting clothing to hide their breasts," he explains, "which is ultimately just a temporary solution." Others try to reduce their symptoms by switching to a more supportive bra; however, as Dr. Cohen explains, "A bra that fits properly can reduce discomfort, rashes, and the like, but it typically cannot alleviate symptoms completely."
A viable option for some patients, Dr. Cohen continues, is weight loss. "A healthy diet and regular exercise regimen can reduce some of the fatty tissue in the breast," he states, "but it does not work for everyone." This, he clarifies, is because breasts are made up of both fatty and fibrous tissue. "Excess fatty tissue can often be shed with weight loss," says Dr. Cohen, "but fibrous tissue cannot." For this reason, he explains, patients with more fibrous tissue in their breasts are less likely to respond to diet and exercise as a means of reducing breast size.
Dr. Cohen urges eligible patients who are interested in significant reduction of breast tissue to consider breast reduction surgery. He assures patients that these procedures are known to be both effective and safe when administered by an experienced board-certified plastic surgeon. "These surgeries have improved both the self-confidence and quality of life for a number of my patients," he concludes.
About Andrew T. Cohen, MD, FACS
Dr. Cohen's passion is to provide his patients with exceptional plastic surgery care and high-quality results. He offers a variety of cosmetic procedures at his Encino practice, from breast reduction to breast lift to abdominoplasty, all while utilizing the most advanced technology and innovative surgical techniques. An alumnus of Loma Linda University, he is certified by the American Board of Plastic Surgeons (ABPS) and is a member of multiple prestigious organizations, including the American Society of Plastic Surgeons (ASPS) and The Aesthetic Society. In addition to being a past, two-time Clinical Chief of Plastic Surgery at Cedars Sinai Medical Center, his extensive research has been widely recognized, and he has conducted a number of presentations at top institutions throughout his two decade-long career. Dr. Cohen is available for interview upon request.
For more information, visit drandrewcohen.com or facebook.com/andrewcohenmd.
Contact:
Andrew T. Cohen, MD, FACS
5400 Balboa Blvd, Suite 217
Encino, CA 91316
(310) 659-8771
Rosemont Media
(800) 491-8623
www.rosemontmedia.com