Dr. Cohen Shares His Tips for Buccal Fat Removal in The Cut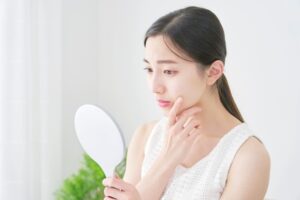 The quest for a slim, contoured jawline continues to be in popular pursuit, even more so with the latest plastic surgery fad – buccal fat removal. Dating back to the 1930s, this cosmetic procedure surgically removes the fat between the cheekbone and jawbone to reveal a more defined facial structure. The fat is typically removed by making an incision inside the cheek near the back molars and is then closed with sutures or stitches. Although buccal fat removal is noted as a relatively quick procedure, it is not necessarily meant for everyone. 
Our board-certified plastic surgeon, Andrew Cohen, MD, recently contributed to an article in New York Magazine's The Cut website, The Pursuit of a Snatched Jawline Continues With Buccal Fat Removal, where he explains the importance of being a qualified candidate for this type of facial surgery. To ensure the most natural-looking result for buccal fat removal, he recommends having a rounder face shape. Dr. Cohen tells The Cut, "If faces get too gaunt, you can definitely look older." Further expanding on the topic, he adds, "It is also important to not ever remove all of the buccal fat pad but instead leave a minimal amount for aesthetically pleasing final results."
Before you subscribe to this latest beauty trend, be sure to seek advice from a board-certified plastic surgeon experienced in this type of procedure. They can help determine if you are an ideal candidate for the technique based on your facial shape and structure, age, understanding of your personal benefits compared to potential risks for the procedure, and other possible factors.  
If you want to learn more about buccal fat removal or other cosmetic facial procedures Dr. Cohen offers at his practice, please contact our team today!